This won't be an average Blue Nile review, because when you review one of the oldest & largest diamond retailers in the world, you can't just list their pros & cons then reach a conclusion, not at all.
Reviewing BlueNile needs to go a lot beyond this, because you're reviewing a brand that changed diamond shopping once and forever! It's fair to say that without them, diamond online shopping won't be how it is now.
BlueNile.com is one of the most well-known and recognizable major online diamond stores. Since this is one of the most visited site by online shoppers in search for the perfect diamond jewelry, any inhibitions and concerns about its legitimacy can simply be dismissed.
Let's start and see what makes BlueNile.com the leading seller of diamonds online…
Advantages
You're shopping for a diamond online because they revolutionized this industry decades ago
Exquisite Collection of Rare Diamonds
All their diamonds are authentically certified by the GIA (Gemological Institute of America), for their Astor™ they are also graded by GemEx.
Around 50% of their diamonds have 360-degree video.
Very intuitive & user-friendly website (tons of filters, great diamond page listing)
Perfect for any carat, specially when you're searching for smaller carats, around 70% (~390k diamonds) of their collection "as of writing this" is under 0.7 carat
Great customer support
Lifetime Diamond Upgrade Program
Diamond Price Match
Conflict Free Diamonds
Custom Design Jewelry
30 day Money Back Guarantee
Disadvantages
The packaging looks average
Their 30 Day Money Back guarantee takes time and the process is quite tedious (but if you thoroughly read and follow their Return Policy there won't be any problem at all)
Limited photos of their diamonds (as mentioned above, around 50% of their diamonds don't have images)
Following #3, they either have 360-degree video for a diamond, or nothing at all (images are just placeholders)
Complaints and queries about the diamond you buy will be referred back to the wholesalers
Blue Nile's History
In 1998, Mark Vadon was ready to propose then so he walked into a Tiffany's store in search for an engagement ring. When he asked about the difference between two stones, he received little help from the clerk. He was fed up with the treatment he received and the limited choices so he walked out frustrated.
He felt that shopping for engagement rings should not be complicated. He saw diamond as a commodity – you have to learn about it and shop for the best price.
He searched online and stumbled upon a site called Internet Diamonds. There, he found the metrics he was looking for together with an image of the ring and an official certificate issued by the GIA. Vadon contacted the owner, searched for venture funds and bought the company. In 1999, Mark Vadon founded Blue Nile in Seattle. The rest is history.
The company's main concerns are simplifying the buying process, empowering and educating customers, and helping them find the perfect diamond jewelry they will cherish for a lifetime.
How he was able to build all this momentum for Blue Nile?
He simply revolutionized how diamonds are outsourced, instead of having an inventory (inhouse) of diamonds that cost millions, he proposed the idea of having a virtual inventory, wholesalers send Blue Nile their diamonds details, Blue Nile lists that on the site, people browse and buy, and then (and only then) Blue Nile purchase the diamond.
The idea might look very simple these days (like the famous drop-shipping business model), but in 1999, this was revolutionary.
Blue Nile's Website Review
In terms of design and functionality, the website is nice to look at and easy to use. With drop-down buttons and sliders, the site is easy to navigate and use.
Like almost everyone else, the most important pages for you are the browse and diamond info pages, both are actually great in terms of usability.
For example, on their diamond browsing page, you will see a nicely-organized filters from top to bottom, ordered by importance for you (earth vs lab diamonds, 4Cs, then more deeper filters).
And when you open any diamond page, it's fair to say that you can find all details you need with a matter of seconds, they list all info you need in a nice table, show diamond images (if available) right on top, and provide GIA certificate with a click, isn't that what they call "convenient shopping"?
One of their goals is to educate customers about diamonds to make informed decisions. As such, their website is full of information to help you in your research. If you want to know everything about diamonds, the have a huge education section that covers almost every topic you can think of.
You will also see a section for their Astor™ (formerly Signature) collection, these are the top 1% of diamond cuts in the world (as they claim).
Naturally, you would have to pay more for their Astor™ collection, but if your main concern is quality, this is the route to take.
The only downside is that they don't have images for all their diamonds, diamonds without a magnified image is difficult to purchase, because you can't see any inclusions in the diamond, which might be visible once you actually see and touch it.
Their Selection and Price
Blue Nile has a massive collection of certified diamonds, as of writing this, their site lists +550k diamonds! Pretty insane number to be honest.
No store in the world can have this number of diamonds inhouse, and like other stores, these diamonds are listed on the site but they are actually owned by other wholesalers, and when customers selects one, they handle the payment & logistics stuff with wholesalers.
In terms of price, although several competitors came out of the woodwork since Blue Nile started, BN still stands well in terms of offering very competitive prices, they even offer Price Match Guarantee (a lot of T&Cs there, but it is a thing they offer).
Probably one of the best things about Blue Nile (which played a huge role in their brand proposition) is the small/low carat diamonds collection they have.
Some websites offer great collections for low carats (less than 0.7 let's say), but if you want specific characteristics you'll find yourself locked with a handful number of diamonds, on Blue Nile it's a bit different, they currently have around 390k diamonds that are less than 0.7 carat!
It goes without saying that if Blue Nile prices are very competitive online, they are way more competitive if you compare them to local jewelry stores.
This is because diamonds sold in local jewelry stores come with a huge markup in price. These stores have several expenses like overhead, store rent, utilities, and others.
Since online stores don't have a physical store to maintain, they can cut out a lot of that markup (local stores have around 40-50% markup while Blue Nile has around 20-25%). These savings can then be passed on to you, the consumer.
Build Your Own Diamond Jewelry
If it seems that you can't find what you are looking for, you have the option to build and customize your own diamond jewelry. You can create the perfect diamond jewelry with your choice of certified diamonds that falls within your budget.
Blue Nile Financing: BN Credit Card
If you don't want to pay full in advance (which is something we generally recommend, don't get a diamond that exceeds your payment capabilities), you can use Blue Nile CC and pay in installments over 6 or 12 months with zero interest.
If you want to pay over longer periods (24 to 60 months), you can get the diamond for a 9.99% APR.
A financial & friendly advise, if you think you need 36 or 48 months to close your diamond payment, you're getting the WRONG diamond, don't ever put yourself in this situation, paying thousands of dollars in interest for a commodity, it's not a house, it's just a diamond, and you should get the one that goes with your budget (your loved one should understand this as well).
When the card can be useful?
When there is an out-of-this-world discount on Blue Nile and you don't want to miss it, and you're sure money is coming the next month or 2 for example, get the diamond & card, pay in 3 installments, done.
Is Blue Nile a Safe Place to Buy from?
After hearing about several online frauds, we must admit that not everything is safe to be purchased on the web, especially expensive jewelry.
How I can be sure that I'm dealing with a reputable company? Will I get the diamond I actually paid for? What if such an expensive ring got lost in transit?
That's why you have to do some little research when you put thousands of dollars in a diamond you want to get online.
Reading quickly over the web (forums, reviews sites, social media), it won't take you more than a minute to know that Blue Nile is a very reputable and high customer-centric company, they will do everything to make your purchase a pleasant experience.
Blue Nile is almost as old as Google (1999 vs 1998), they have sold hundreds of thousands diamonds for billions of dollars (in 2021, their revenue exceeded $566 million), if their customers experience is bad, they won't be able to hide this from the internet.
They'll send a GIA grading report with the diamond you purchased (which will be the same certificate you saw on the diamond page). It contains all the information that identifies a specific diamond. It also certifies the diamond's grade when it comes to its clarity, color, cut and carat (and more more).
Overall Recommendation
If you want a high quality diamond at a low price, BlueNile.com is worth checking out. With their vast collection of diamonds, you will definitely find something within your specifications and budget.
It's always recommended to see the diamond you're buying, this will be the case with ~50% of diamonds sold at Blue Nile as they offer 360-degree images, for diamonds without an image, decision is a bit harder to be made.
Their 30-day money back guarantee served as an assurance that after spending thousands of dollars, I don't like what I got, I have the option to return it.
Just like any online transactions, you have to practice due diligence, as this will help you find the perfect ring you will cherish for a lifetime.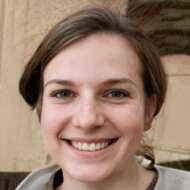 Olivia Bennett is a dynamic and accomplished expert in the diamond industry. With over a decade of experience, she has established herself as a go-to authority for all things diamonds. Olivia's love affair with these exquisite gemstones began in her childhood and has only grown stronger over the years.
Having worked closely with diamond miners, manufacturers, and retailers, Olivia possesses a comprehensive understanding of every aspect of the industry. From diamond grading to sourcing and the latest design trends, her expertise is unparalleled. Clients value her impeccable taste, attention to detail, and personalized approach.
Driven by a passion for education and empowerment, Olivia launched her own website dedicated to diamonds. Through engaging and informative content, she guides individuals through the intricacies of diamond buying, helping them make confident and informed decisions.
Olivia's mission is to ensure that everyone finds their perfect diamond, one that truly reflects their unique desires. With her extensive knowledge and unwavering dedication, Olivia is a trusted guide in the dazzling world of diamonds.