Not only one of the best known name in the world, but James Allen.com is actually one of the premiere diamond and diamond jewelry retailers you'll find.
No wonder we chose them as our top pick as the best place to buy diamonds and jewelry online.
But why? What makes James Allen so special? Where they are the best and where they need some improvements?
This is what we will see in a full & thorough review of James Allen.
The Rundown on James Allen.com
Main Advantages
Great (probably even fabulous) user experience while using the website
360-degree images of actual diamond you're about to buy
40x magnification for all diamonds (you examine the diamond better than using a loupe)
Helpful customer support
Get your ring sized perfectly in their virtual sizer
Lifetime warranty on all products
Stone & Setting completely customizable
FREE Shipping to all locations!
Main Disadvantages
Shipping can take longer than expected depending on location
Some items can become unavailable quickly so need to act fast (but they can put your diamond on hold if you're serious about it)
Sometimes additional verification required to avoid fraud
You need to talk to chat to see the certificate (update: Finally they stopped this and you can get the certificate with a click)
If you're looking for a small diamond (<0.7 carat), your options might be limited if you're looking for something specific
Buy From James Allen If…
You want to see the actual diamond you're about to buy, not a generic stock photo
You need a completely customizable setting + stone, or want to purchase them separately
You're looking for a great price and quality stone
You don't mind spending some time searching the huge site
James Allen & Revolutionizing Diamonds Imaging
When we started this blog around 2014, James Allen wasn't known as of it today, (personally I remember when I first heard of James Allen, I thought it was the known British philosophical writer), but when we visited their website, they had something no other company we've come across had.
Actual images of the diamonds they were selling, not stock photography or generic pics like we used to see in 2014.
What's more is they offered 360-degree 3-dimensional views directly on their website. Needless to say this was very, very intriguing.
This gives immediate "relief" that the company was so confident in the products they sell, to the level they were ok with you scrutinizing them for hours behind your laptop screen.
We've all been to jewelry stores where the sales person makes you feel uncomfortable for examining what you intend to buy closely.
It's as if you're wasting their time (and.. let's be honest… no annoying sales people pushing things down your throat is one of the best things about buying online).
James Allen Collection & Inventory
For decades, Blue Nile occupied the "largest diamond store" spot, whether online or among physical stores, this was the case for long time.
Later 2018 & probably 2019, James Allen heated up the game, they knew how to scale up their inventory while maintaining their best imaging standards (keep in mind, Blue Nile at that time had almost no images of diamonds, while James Allen had 360-degree with 20x magnification for EVERY single diamond).
When we're talking about "large inventory", we're not talking about thousands or even tens of thousands, the competition between JA & BN was who will have half a million diamonds for immediate purchase on the website.
Insane number, isn't it?
Indeed, we remember when we kept updating numbers for inventories of these stores when we revise content, JA has 200k, oh 1 second, BN made it to 240k, 6 months later >> check inventory, it's 400k!
Today (Nov. 2022., James Allen has 575k loose diamonds (all shapes), and Blue Nile has 625k! 1.2 million diamonds in just 2 stores online, what a crazy world we live in!
Beside the standard cut grades (good, v.good, and idea), James Allen offers best of the best ideal cuts, their True Hearts™ line of diamonds, they guarantee that these diamonds have unmatched sparkle & brilliance, thanks to the perfect internal symmetry and proportions, and the highest gem grading for cut and polish.
True Hearts™ collection comes in round, princess, and cushion shapes.
James Allen Website Shopping Experience
Put simply, the way things are laid out and the control you have over what you want is second-to-none when you browse at James Allen.
If you work in website design, or at least have the passion for this, you will immediately tell that there were a lot of sleepless nights for those who created this journey, the listing, filtering, customizations, comparison, up until checkout, you get the feeling that you're mastering using the site, from the first time you visit it.
You can start by choosing either the stone (they also sell other gemstones) or the setting you want.
If you want to browse loose diamonds, you can.
You want to explore rings only? That's also available.
It's pretty easy to navigate around, choose various options and examine your diamonds, gems and jewelry close-up. Filters & ordering options on diamonds page are very intuitive (they must be, when you're selecting between 575k diamonds!).
You can go broad – like any type of princess cut diamond. Or you can narrow your search by shape, color, cut, clarity, price, carat and even more (under advance options).
And with each choice, you're shown how many diamonds match your criteria and a 3D image of the actual product.
James Allen Lab-Created Diamonds
Can't exactly remember when this started, but probably later 2019 or early 2020, James Allen decided to get into the lab-grown diamonds industry.
If you've already read our review for lab-created diamonds, you will relate how hard it might be for a big name like James Allen to get into this industry or keep doing what they've been doing for +15 years.
It's because people are still very careful (and probably anxious) when they hear the term lab-created diamonds, we won't go into this debate, it's already covered in that post.
So, James Allen said yes, and started offering lab-created diamonds (at that time, graded by IGI only), and they started with kind of limited collection, less than 10 thousands as we remember (yes 10k is tiny compared to their earth-mined diamonds).
As of now (2022., James Allen has +62k lab-created diamonds, mostly graded by IGI, but recently they started offering GIA grading for their lab-created inventory.
The same details you expect on a natural diamond page are also available for lab-grown one, as well as very HD 360-degree images & 40x magnification, for every single diamond.
The Purchase, Checkout and Support
Buying a diamond at James Allen is pretty easy and straight-forward. The checkout process isn't convoluted but, like any online checkout, there are probably a few too many clicks you have to make to get to the end.
You do need to create an account to checkout and complete your purchase but they offer a lot of payment options which was great. You can buy with:
Credit Card
Wire Transfer (with 1.5% off your purchase)
PayPal
SplitIt
In-House Financing
If you have specific questions about something it's nice to be able to live-chat with someone from JA immediately, they have 24/7 chat support, and their customer service is spectacular, we've tried them more than once, but don't take our word for it, give them a try yourself and see.
What's even more is they employ GIA graduates as gemologists you can actually talk to before buying, so if you're in doubt about a specific diamond and you want a GIA-level expertise, you can ask for that over chat.
Overall Recommendation
James Allen (along with their competitor Blue Nile) is a main pillar of online diamonds industry, they raised the bar and pushed competition in this industry on all fronts.
Whether you want to buy a diamond now, get an idea about diamond pricing, customize a ring with a rock, or even just wanted to explore diamonds beauty, James Allen is the store to go.
They are a great company to purchase diamonds and jewelry from, and they really seem to be confident in the products they sell and they want you to feel that.
If you want to buy a ring from James Allen, you won't be disappointed. Ask them about return shipping and full refund policy, and you'll likely also be pleasantly surprised.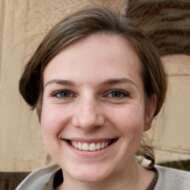 Olivia Bennett is a dynamic and accomplished expert in the diamond industry. With over a decade of experience, she has established herself as a go-to authority for all things diamonds. Olivia's love affair with these exquisite gemstones began in her childhood and has only grown stronger over the years.
Having worked closely with diamond miners, manufacturers, and retailers, Olivia possesses a comprehensive understanding of every aspect of the industry. From diamond grading to sourcing and the latest design trends, her expertise is unparalleled. Clients value her impeccable taste, attention to detail, and personalized approach.
Driven by a passion for education and empowerment, Olivia launched her own website dedicated to diamonds. Through engaging and informative content, she guides individuals through the intricacies of diamond buying, helping them make confident and informed decisions.
Olivia's mission is to ensure that everyone finds their perfect diamond, one that truly reflects their unique desires. With her extensive knowledge and unwavering dedication, Olivia is a trusted guide in the dazzling world of diamonds.