Although they are getting a lot of exposure recently, Whiteflash isn't new as some people might think, they have been doing this business for more than 20 years! Actually they were in the diamond industry even before James Allen!
This unbiased post will be dedicated to review everything we know about Whiteflash, from our experience with them, sending customers their way, and feedback grouped from all over the internet.
You'll learn about the company, the quality of inventory they hold, their customer service and more.
Is it a solid choice when buying diamonds and jewelry online?
Or should you steer clear?
Whiteflash isn't proposing itself as a regular diamonds store, and while they do compete with giant retailers like James Allen & Blue Nile in pricing, their competitive edge is their premium cut diamonds, specially the The A CUT ABOVE® line.
Let's get a bit deeper and walk through this review of WF.
A Little Background on Whiteflash
Whiteflash hasn't been around forever, but they were definitely early in the online diamond jewelry market. Starting at the turn of the millennium, they built a very solid reputation around the globe relatively quickly.
The key to that growth, however, was in word-of-mouth and not expensive marketing campaigns.
That speaks to the quality of retailer you're dealing with when choosing Whiteflash. In fact, in 2018 the company got the Better Business Bureau's "Pinnacle" Award – the highest honor the bureau bestows. In 2019, they were named best jewelry retailer in Houston, Texas.
Based in Houston, the company also has an impressive box store in Sugar Land.
But how does their website hold up like some of it's major competitors?
Main Advantages
High quality imagery and video of products
Exclusivity of diamond selection (ideal cuts)
Beautiful designs and cuts
Industry leading pre- and post-sales support and education
Free international shipping
Highly acclaimed by organizations like the Better Business Bureau
Main Disadvantages
Limited selection/choice (compared to other retailers)
Better diamond imaging than most, but not the best available
Very limited selection of men's jewelry
Online Jewelry Shopping Experience at Whiteflash.com
Shopping at Whiteflash.com is a pretty good experience.
The first thing you notice when arriving at the homepage is how quickly the website loads. There's nothing worse than having to wait a few seconds online, am I right?
The dark aesthetic gives the experience the same elegant feel you'd get stepping into a boutique jeweler in real life. Personally, I find lighter (or bright white) themes on jewelry websites a bit too "Walmart" for my liking.
Shopping is a relatively straight forward task, with the major sections of the store clearly displayed prominently. The designers did a good job of avoiding too much clutter.
Of course, as with most websites, the large drop-down menus do get in the way sometimes. But that's a minor annoyance that you'll find with a lot of websites.
The best part of the shopping experience (aside from the imagery, which we'll discuss below) is the number of ways you're able to browse their jewelry selection.
You can browse by jewelry type, diamond cut and designer name. Once you've decided on how to browse, you can filter their selection through a number of different criteria, to find your perfect piece.
Can't decide between a couple of different items you really like? They've got a handy "compare" feature where you can do side-by-side comparisons of all the pertinent information.
There could, however, be more details included on the compare pages. For example, you don't get information on carat weight and clarity of any diamond melee that might be included in the ring.
For that info, you'll have to view the product page itself. Not a big deal, but not entirely seamless either.
Overall, though, the shopping experience at Whiteflash is great!
Diamond Imagery
Of course, buying diamond jewelry online can be tough since you're not looking at the stone in person.
That's why high quality imagery is one of the biggest criterion to judge a retailer on.
Over the past few years, Whiteflash improved (a lot) their inventory images, we recall back in 2019 and probably 2020, most diamonds on Whiteflash didn't have an image (stock one), or a static image that shows the diamond in 2D only, which isn't enough to decide.
Later 2020, more and more diamonds on Whiteflash became available in 3D view (like a playable video), which is extremally more useful than just a static image.
The problem is, when we discuss diamond images online, James Allen heated up the game long time ago, and they really surpassed all competitors, so any comparison for diamonds imaging technology online will always be using James Allen as a reference, making it much harder for others to win here.
This being said, the quality of imaging used on Whiteflash is really super and will let you examine diamond from different angles clearly, so don't expect to see JA-alike experience, but it's pretty good one.
Product Quality at Whiteflash
Usually, first impression with any brand tells you a lot about it, is it an "amateur" brand? A professional one? Competing in a red ocean, or swimming with some nice names in a blue ocean.
When you open Whiteflash website for the first time, it tells you right away that you're in a site that is catered into quality, images, messages, colors, everything on the site sends that message.
Whiteflash considers themselves as the house of premium cuts & high quality diamonds, they have their own line of finest ideal cuts: The A CUT ABOVE®.
To verify this, we've tested them ourselves through a ring purchase, this was summer 2020 when they started offering real images for their collections, unfortunately we lost its video, but this is it: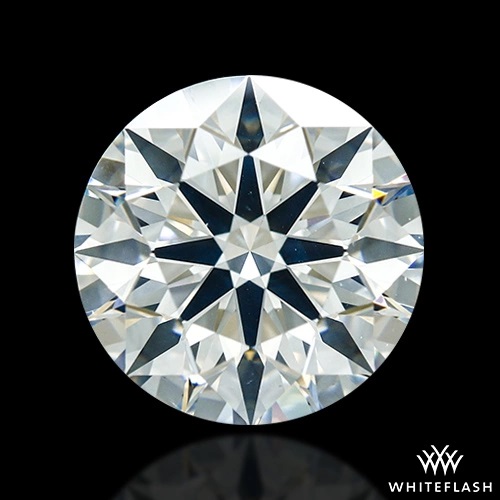 It looked exactly the way it appeared on the site, we wanted to verify if lighting has a huge effect on their 360-degree videos but it turned no, the diamond reflected light magnificently as presented.
And because we can't take reviews they have on their site for granted (since they decide what to show there), we searched over the internet forums (Quora, Reddit, Yelp, etc..) and read tens of people experiences with Whiteflash.
We also tried them more than once (secret shoppers of course) and talked to their customer support for inquiries that vary between general questions to even recording videos for specific diamonds under regular lighting (yes, they did that for us!).
In a nutshell: Whiteflash does have great quality products – no one can deny that!
In terms of inventory, Whiteflash doesn't have tens or hundreds of thousands of diamonds like James Allen or Blue Nile (again, their competitive edge is premium cuts mainly), as of writing this, they have around 1000 diamonds in-house, and around 11k virtual (outsourced).
Most of the stones carried at Whiteflash have AGS certificates because the company is a member of the American Gem Society, and their laboratory is known to be the foremost authority in Cut quality analysis.
So if you're looking for a great cut in your rock, Whiteflash is definitely the place to go.
Beyond that, they offer a wide range of designer jewelry and engagement rings from the top names in the business.
When you're looking for something truly unique and inspiring, names like Danhov, Simon G, Verragio and Tacori are your best bets – and Whiteflash carries them all (and even more).
Whiteflash A CUT ABOVE® Diamonds
The great thing about boutique jeweler is that you're able to find things you won't find at your regular big chain jewelry stores.
When it comes to Whiteflash, that means their A CUT ABOVE® "super ideal" diamonds. You won't be able to find these diamonds anywhere else. And they're absolutely brilliant.
These are basically Whiteflash's exclusive line of Hearts and Arrows diamonds. Hearts and Arrows diamonds must be pristine round cut stones that display a 3D alignment/symmetry of the facets and a perfect hearts and arrows pattern. It must then pass image testing to prove light performance and earn AGS's "ideal" certification.
Only then, does it get to be one of the premiere sparkling stones on the planet.
And Whiteflash has a ton of them.
Whiteflash Collection
One of the places that Whiteflash falls a bit short is in diamond and setting selection/choice.
That's not to say that they don't carry enough styles or items. They have a vast inventory of beautiful stones, rings and other types of jewelry.
But it's not as extensive as some other retailers we like.
The reason for this is likely the fact that Whiteflash likes to deal in mostly IDEAL cuts and designs. They don't inflate their inventory with products that don't pass their high standards.
In other words, Whiteflash isn't the preferred store for someone looking for a "regular" ring or diamond, such rings & diamonds are available in tens of thousands on other stores, and we don't believe Whiteflash will be getting more & more of these, as they brand themselves in the premium selections game.
Customer Service and After Sales Support
One thing that makes Whiteflash one of the best places to shop at for jewelry is their after sales programs.
They're phenomenal.
Not only do you get 30-day money-back guarantee, you also get a one-year service plan that covers refinishing and repairs that stem from normal wear or manufacturing defects.
But what if you decide you don't like your purchase after 30 days? They've got you covered.
For a full year after purchase, Whiteflash will buy back your diamond (from it's in-house certified collections) for 70% of the original purchase price:
If for any reason you should want to sell your diamond after your 30 day return period, Whiteflash will buy qualifying diamonds back at 70% of the diamond's purchase price. This benefit is guaranteed for one year from the date of your invoice.
So you can rest easy knowing if you're not fully satisfied, you're covered in many ways.
But Whiteflash takes it further than that.
They offer a lifetime 100% "trade up" guarantee. So if you want to swap out your stone for something bigger or brighter, they'll essentially buy back your original stone for 100% of what you paid for it.
You're only left to pay the difference.
Talk about after-sales support!
Add to that their highly trained staff of GIA and AGS certified gemologists who are there to help you every step of the way, and you have an ideal place to shop for your next piece of jewelry.
Don't want to talk to anyone? No problem, just peruse their vast library of diamond education online and you'll be set.
Final Recommendation
If you're looking to buy an exquisitely beautiful diamond in an exquisitely beautiful jewelry setting, Whiteflash.com is a great place to go.
Their selection and high standards are one of the reasons we love them and chose them as one of our "top picks" for best diamond retailers of 2022.
But what really sets them apart is their sales support and service. They seem truly committed to the satisfaction of their customers and that's extremely important – especially when you're looking to spend hundreds or thousands of dollars on something.
Thanks for checking out our entire review of Whiteflash. We highly recommend you give them a shot if you're in the market for diamond jewelry.
Olivia Bennett is a dynamic and accomplished expert in the diamond industry. With over a decade of experience, she has established herself as a go-to authority for all things diamonds. Olivia's love affair with these exquisite gemstones began in her childhood and has only grown stronger over the years.
Having worked closely with diamond miners, manufacturers, and retailers, Olivia possesses a comprehensive understanding of every aspect of the industry. From diamond grading to sourcing and the latest design trends, her expertise is unparalleled. Clients value her impeccable taste, attention to detail, and personalized approach.
Driven by a passion for education and empowerment, Olivia launched her own website dedicated to diamonds. Through engaging and informative content, she guides individuals through the intricacies of diamond buying, helping them make confident and informed decisions.
Olivia's mission is to ensure that everyone finds their perfect diamond, one that truly reflects their unique desires. With her extensive knowledge and unwavering dedication, Olivia is a trusted guide in the dazzling world of diamonds.